Increasingly more devices and technical installations are connected to the internet. This creates insight into the operation of this equipment, which greatly facilitates its management and maintenance.
Sensors or bus systems are used to collect data from a technical installation. This can be, for example, the filling level of a silo or container. These measurement data can be transferred to a cloud application for further analysis and visualization. By setting alarm limits, an alarm message can be sent if critical levels are exceeded. This creates more control over the process and, for example, logistics processes can be optimized.
In short, alerting, measuring and connecting as we have been doing successfully at Adésys for years .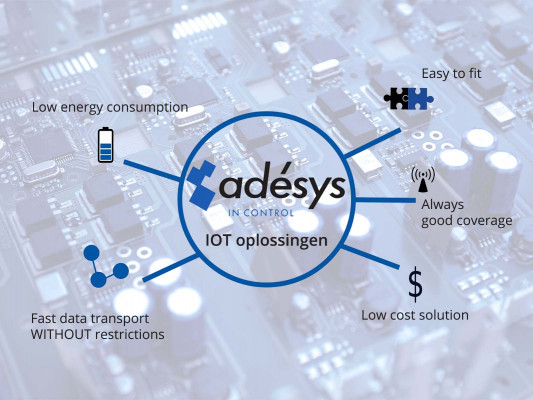 LTE-M, a supplement for connectivity via 4G for Machine-2-Machine
Narrowband IoT (NB-IoT) and LTE Cat-M1 are (in addition to Lora and Sigfox) the new standards for setting up connections within Internet of Things projects.
The benefits
Excellent coverage, even under difficult circumstances.
Fast data transport.
Battery power supply feasible due to low power consumption.
Affordable hardware and fast development.
Inexpensive connection subscriptions.
Secure connections:

Authentication network and device.
Encrypted data traffic.

Open standards extensively supported globally.
Narrowband, as well as LTE Cat-M1 are bands within the current 4G spectrum. This makes it relatively easy for network operators to activate these networks. More and more providers are facilitating communication about these new M2G bands. The new Adésys communication modules support all of these networks, which makes the use of these technologies very flexible.
IoT provides insight into your process
You know where the key information is concealed in your installation or your customer's installation. By using IoT, information can be retrieved and then used smartly. This creates opportunities!
Due to the prices drop compared to traditional networks, such projects are likely to be profitable more quickly. All measured data can be compared using smart software and yield information in support of your business processes. This results in insight, optimised processes and savings.
Would you like an IoT Scan for your organization, free of charge and without obligation?
We perform a free and no-obligation IoT scan so that you know which processes in your organization can be optimized by means of IoT.