Modems are deployed in the industry to connect local technical systems with a central process computer. This process computer operates and reads out those local processes. You will always be connected to your applications in the field via the SVM 4G modem. The SVM's unique 'auto log on' concept means that the often complex 4G connection technology is simplified to the level of standard modem technology.
The benefits
Ability to control and monitor your technical systems
Combined 4G internet modem and SMS alarm dialler
'Steady Connect' for extremely stable connections
Connection with SCADA via 4G and/or fixed Ethernet (double certainty)
Power failure reporting via emergency power supply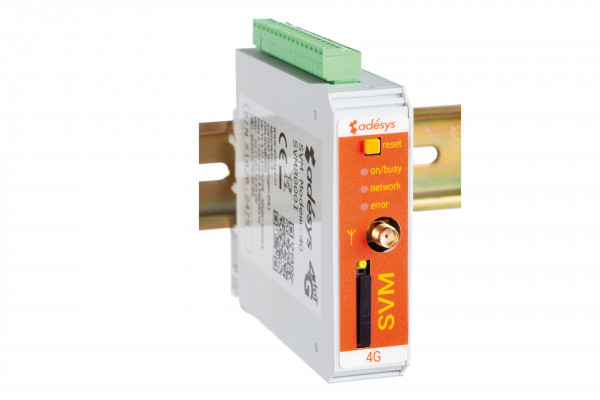 Request quotation SVM 4G modem/SMS alarm dialler
It is only possible for companies based in the Netherlands to purchase our products online. You can request an online quote.
This SVM 4G uses the new LTE-M (in full: LTE Cat-M1) band of the 4G network especially for Internet of Things (IoT) applications. More information can be found at the bottom of this page.
| Article number | Description | Price | |
| --- | --- | --- | --- |
| SVM0000-I | 4G Modem | € 350,00 | |
| SVM2000-I | 4G Modem with 2 contact inputs | € 430,00 | |
| SVM8000-I | 4G Modem with 8 contact inputs | € 505,00 | |
LTE-M, a supplement for connectivity via 4G for Machine-2-Machine
This SVM 4G uses the new LTE-M (in full: LTE Cat-M1) band of the 4G network especially for Internet of Things (IoT) applications. In comparison with other solutions, LTE-M has a number of strong advantages:
Very good coverage including in buildings
High bandwidth for sending and receiving data
Limited delay between sending and receiving data (latency)
Select the right SIM
Selecting the right SIM is very important to ensure that our equipment operates correctly and safely. Select a 4G SIM of a provider that supports the LTE Cat M1 band. Otherwise you could use a 2G SIM card.
Easy configuration and remote control
Configuration program SV-prog
You can easily configure the SVM alarm dialler using a PC or laptop. Use the free SV-prog software for this (see on page service/downloads). SV-prog gives you a clear overview of the configuration options.
Link operating systems such as PLCs to SCADA
The SVM is the right product for simply changing existing dialled modem connections to 4G and/or Ethernet. You do
not need to adjust the PLC because the SVM processes existing modem commands and builds up a stable internet
connection. Once the modem has been connected, it will read in the data from the PLC via the RS232 or UTP port and it will pass on the data to a SCADA application via the 4G network and/or fixed Ethernet. By using both connections, double certainty is created.
If you connect any alarm contacts that are present to the SVM inputs, it will also be an alarm dialler with SMS alerting.
Product Features
Connected to applications in the fiels
Ability to control and monitor your technical systems
Combined 4G internet modem and contact controlled SMS/email alarm dialler
'Steady Connect' for extremely stable connections
Connection with SCADA via 4G and/or fixed Ethernet (network redundancy)
Number of call opportunities: 3 call lists with 8 call possibilities per list, maximum of 20 digits per call number
Input options: 2 or 8 universal inputs (dependent on SVM model)
Reports a power failure in your process due to Supercap built-in emergency power supply (charged after a few minutes)
DIN-rail (TS35) enclosure, dimensions 23 x 95 x 102mm (W x H x D)
Operating temperature: -20°C ... +50°C
Supply voltage: 15 - 35VDC / max 8.5W; 20 - 30VAC / max 18VA