The Octalarm-Touch is an alarm dialler for monitoring critical technical processes. As soon as a process interruption is detected, Octalarm-Touch will start alarm calls to the service staff. This enables corrective action to be taken in time, preventing damage and production loss.
Safe alarm at a glance
The benefits
Calls possible via analogue line, VoIP and mobile phone networks (4G)
Set alarm texts automatically spoken in the user's language
User interface in over 20 languages and international characters
User-friendly operation via touchscreen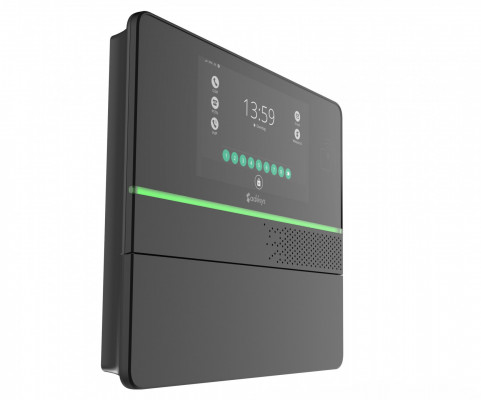 Request quotation Octalarm-Touch
It is only possible for companies based in the Netherlands to purchase our products online. You can request an online quote.
This 5th-generation Octalarm uses the latest technology to enable secure and reliable alerts using today's (significantly changed) digital telephone networks. With Octalarm-Touch, you're ready for the future!
Octalarm Connect
The service Octalarm Connect* ensures that calls via mobile networks and VoIP are available immediately for low, fixed costs per month. You can easily activate the supplied SIM card during the setup wizard. As a result, no firewall issues (VPN) occur and no manual e-mail settings (SMTP) are required. Herewith, the alarm dialler works out of the box.
All in service for GSM and VoIP calling with KPN SIM card and 24/7 monitored Adésys servers
Fully configured and ready for use right out of the box
Monthly settlement via direct debit or credit card with end customer (€ 13,95 per month)
Why close Octalarm Connect? Read the information sheet which you can find under downloads (at the bottom of this page).
* Octalarm Connect only works in Europe.
| Articlenumber | Description | Price | |
| --- | --- | --- | --- |
| Octalarm-Touch | alarm dialler with 8 alarm inputs, 2 switchable outputs, 2 open collector outputs, message b.m.o. spoken message, SMS, pager or e-mail. Built-in 4G GSM/UMTS module for alarm calls when the analogue telephone network is not available (delivery including antenna on the device and including UTP cable) | € 1.650,00 | |
Guaranteed continuity
As intelligent alarm software is combined with 3 call options: PSTN (analogue line), VoIP and GSM, the alert is always guaranteed to arrive. The Octalarm-Touch will use all these available lines alternately for alarm calls and will automatically test the availability of these dial-up options. This 3 double certainty (redundancy) ensures that alarms arrive and action can be taken at all times. This enables you to avoid operational interruptions and emotional and financial damage.
Therefore, the Octalarm-Touch is the solution for the disappearance of ISDN lines.
alerts via spoken messages, pager, SMS, email and app*
confirmation and resetting of alerts via personal code
automatic repeat if the alert is not cancelled
muting of non-urgent alerts during the night
logbook of the alerts and how these were handled
* Expansion in later version
Remote management with Portal.octalarm.com*
With our portal, every internet-connected Octalarm-Touch can be monitored remotely.
Remote configuration and control
(Automatic) Software updates
Email notifications and reporting
Alarm status and configuration via App
* Expansion in later version
Touch I/O*
The Touch I/O is a DIN rail unit that can be connected to one of the two relay outputs of the Octalarm-Touch via I/O bus. This allows you to expand the Octalarm-Touch to 16 or 24 inputs respectively. We expect to be able to deliver this module in the fall of 2019.
* Expansion in later version
Testimonials: the floor is up to the customer
Product Features
User-friendly

Configuration and daily use extremely intuitive and user-friendly thanks to 7-inch touchscreen
Striking LED status bar for status display
Configuration wizard during commissioning for creating required basic settings
Quick access to contacts, alarms, settings and logbook from home screen
Access with RFID tag and/or personal code

Three parallel connections for 3 double certainty (redundancy)

Analogue telephone (PSTN) lines
Fixed internet via VPN
Wireless 4G connection with VPN

Secure connections with OpenVPN principle
Line monitoring on all connections with alerts from portal.octalarm.com *
No Firewall issues (VPN) and no manual email settings (SMTP)
Alert types

automatically generated spoken messages
SMS messages
Smartphone app*
Pager (via SOAP protocol)

Alert functions

Configurable input delay per input
Reset alarms with personal code
Automatic repeat call up
Day, night and weekend mode with alternative numbers
Local alert via built-in buzzer and LED status bar

Remote management

Remote configuration and control
(Automatic) Software updates
Email notifications and reporting
Alarm status and configuration via App*

Octalarm Connect: subscription for quick start up and to send alerts via VoIP and mobile network
8 alarm inputs, 2 switchable outputs and 2 open collector outputs for external buzzer and flashing light
External expansion with 2x 8 extra inputs through 2 DIN rail units via I/O bus*
Built-in emergency power supply (LiFePO4 battery) to alert power failure
Network-controlled alerts via RestAPI with JSON protocol*
*Expansion in later version