Development of SVA-X16: a plug & play replacement for the Radius signalling system
"At Mous Waterbeheer we have been doing business with Adésys for about thirty years now", says Klaas Jan Dijkstra, account manager at Mous Waterbeheer. "I see this relationship much more as a partnership than as a traditional customer-supplier relationship. During the development of an alternative for the old Radius system, we really worked together and that resulted in a beautiful end product. The SVA-X16 alarm module is excellent and it looks like we will be installing the 2,000th unit this summer (2021)."
For the control of mini pumping stations Mous Waterbeheer had been using the Radius signalling system since the 1990s. This system is based on old communication techniques (read: analogue lines) and was in need of modernisation. Arnold van Tiel, technical specialist at Mous Waterbeheer, explains that it was only logical to put the question down to Adésys. "They have been our partner for modem solutions for years, so we asked them to think along. We presented a functional plan with our wishes and requirements and Adesys started working on it.
Product fine-tuning
A year of development and experimentation followed, and now there is a product that meets all the wishes and requirements. Klaas Jan and Arnold explain that there have been several pilots to test the SVA-X16 in practice. "We replaced a cluster of about five Radius systems in a number of municipalities with the new alarm module. That way the municipalities could experience for themselves how they liked it and then decide whether they wanted more," explains Klaas Jan. Arnold adds that these pilots sometimes produced some minor points of improvement. "But that was not much more than fine tuning; the product was and is rock solid."
"With the SVA-X16 alarm module, we have produced an excellent product. It's nice that we were able to tackle such a development together with Adesys. We really worked together and you can see that in the end result."
Unique in its kind
That the SVA-X16 has been well received by users does not surprise the two men from Mous Water Management. It has proven to be a reliable communication module that is easy to install. The module can be used almost one-to-one to replace the existing Radius control system, and no modification or reconstruction of the mini pumping station is necessary. Arnold: "We also use the module regularly in new construction projects. Because the software has been specifically developed for the alarm of mini pumping stations, the SVA-X16 is unique in its kind." Arnold and Klaas Jan have noticed that Adésys has built up a good reputation in the market. Customers of Mous Waterbeheer know the company and its products and are satisfied users. "The products are known to be reliable and that is extremely important in our line of business."
Fast switching
Arnold and Klaas Jan look back with satisfaction on the development process of the new alarm system. They like the fact that the lines of communication with Adésys are short and informal. "We have known each other for a long time and know what we can expect from each other. The Adesys employees think along with us and can quickly switch," says Klaas Jan. "If there is something wrong: just a call and it is arranged", Arnold describes. "Now that I think about it: it feels more like colleagues. And that is very pleasant!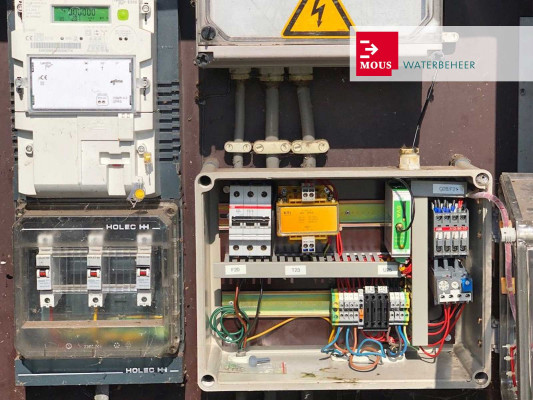 Share with:
Also read