Adesys has developed a new series of DIN rail mounted alarm modems called Modalarm-IP. The new Modalarm-IP is a versatile alarm dialer with an internet connection and line monitoring. Besides the alarm dialer function, the Modalarm-IP is excellent for remote switching and proces control. The Java VM environment makes it possible to develope your own control software.
The advantages
Alarm dialer with spoken messages, SMS, Paging, e-mail alerts
4 alarm inputs
2 switchable outputs
PSTN and GSM versions
Build-in emergency supply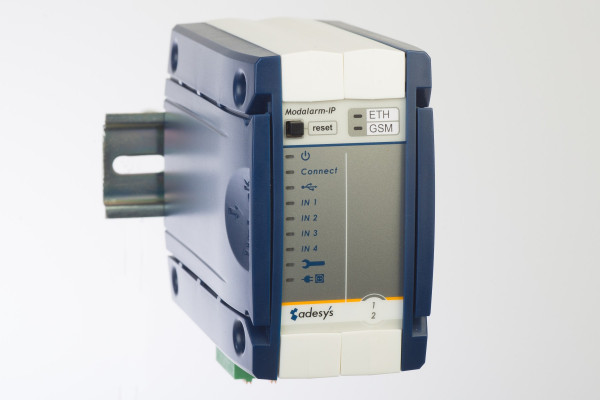 Ordering Modalarm-IP Alarm dialler
Experience shows that we need more information about your business process to assess whether the Modalarm-IP is suitable for this. We therefore recommend that you order a Modalarm-IP to contact our sales department.
Examples of applications
The Modalarm-IP alarm dialers can be used to monitor critical processes such as monitoring pumping and purification stations in the water industry for example or monitoring machines and production processes in industry. When used as switching device or control system it can even replace small PLC's were you have control and alarm functions in 1 unit leading to smaller investments and automatic integration of these functions.
Product Features
DIN rail model, (WxHxD = variable x 95 x 120mm)
4 digital inputs for alarms, 2 remotly switchable outputs
PSTN and GSM (2G/3G) models. Combination possible for double security
Free help desk support
Built-in overvoltage protection
Emergency power supply provided by internal NiMH battery with battery monitoring and trickle charger
Speech messages to telephone, can be uploaded from a PC
Reporting to (alpha) numerical pager
Reporting to cell phones using SMS messages
Reset reports
Menu driven, adjustable via ethernet (UTP) port with your web browser or via the internet
Comprehensive data logger for the most recent actions with date and time