The Modalarm-IP combines telephone alarms, data communication and telemetry in one device. The compact DIN-rail enclosure and the programmable control system (Java VM) make the dialler ideal for monitoring and communicating with a large number of different technical applications.
The benefits
Monitoring and communication with machines and processes
Telemetry via (mobile) internet or analogue telephone connection (PSTN)
Alerts via analogue telephone connection (PSTN) and/or GSM (2-3G)
Alerts sent as spoken messages and SMS
Compact DIN-rail enclosure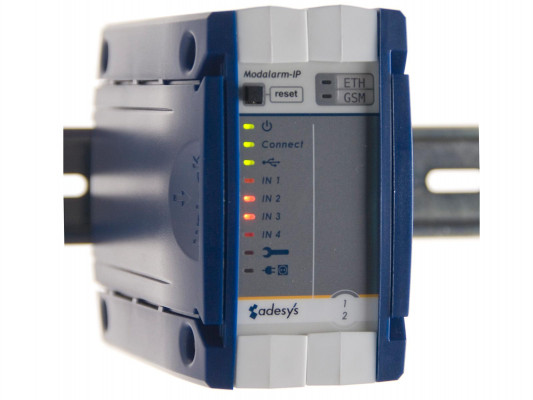 Product Features
Safe and reliable
PSTN (analogue connection), GSM (3G with fallback to 2G if 3G is not available) and IP-alarm versions
Built-in overvoltage protection
Emergency power supply by internal NiMH battery with battery monitoring and trickle charger
User-Friendly
Menu driven, adjustable via free software program IP-prog or by ethernet (UTP) port with your web browser / internet
Extensive data logger (with date and time)
Alert functions
Alert types

voice message to telephone
SMS message to mobile phone

Alert functions

Automatic repetition
Reset option while reporting or by calling back with voice response-system
Day, night, weekend program for alternative report numbers
Notification on power failure
Recovery messages when alarm is cleared
Remote switching of outputs
Can be combined with ARA-pro reporting system from Adésys

Number of call options: 40 (with adjustable dialler per input)
Telemetry
Remote switching with feedback
Remote monitoring of analogue measured values
Pulse counter / counting operating hours
Java VM programming platform for custom process controls
Network telemetry from modem to modem (Modalarm-IP <-> Modalarm-IP and Modalarm-IP <-> SCADA
Controllable via XML protocol (alternatives on request)
System properties and operating conditions
Number of inputs: 4 , can be uses as digital alarm or status inputs / analogue inputs for limit value monitoring
Number of outputs: 2, switchable by phone, modem or internet / analogue output for following measured values
DIN-rail enclosure, dimensions 56 x 95 x 20 mm (W x H x D)
Applications: monitor and control critical processes
Water Management: monitoring pumping and purification stations
Industry: monitoring machines and production processes
Building Management: monitoring building management systems
When used as switching device or control system this device can even replace small PLC's were you have control and alarm functions in 1 unit; leading to smaller investments and automatic integration of these functions. Remote switching from unit to unit is possible via PSTN, GSM and IP connection.
Easy configuration and remote control
By linking the Modalarm-IP to the internet you can easily configure the dialler with a PC or laptop. This can be done in two ways:
with the configuration program IP-prog (see service/downloads);
with IP address alarm dialler via a local company network / web browser.
Excellent overview of all functions
Setting and reading the alarm dialler
View log (with all events)
View alarm status
Request quotation Modalarm-IP
Note: limited lifespan
As of the beginning of 2020, Dutch telecom providers started phasing out the 3G network and 3G will no longer be provided by them from January 1, 2022. If the provider support 2G, the Modalarm-IP has an automatic fallback to 2G. However, the 2G network will expire in the Netherlands as of April 2025. We recommend you to contact your provider for clarity in your 2G and 3G delivery guarantee. Due to the loss of these networks, the lifespan of this dialler is limited.
In addition, the Modalarm-IP is only available to a very limited extent due to a small remaining stock and the inability to purchase all components. We have therefore decided to stop producing the Modalarm-IP. If you are interested in purchasing (part of) the remaining stock, we recommend that you contact our sales department. They will be happy to provide you with a customised quote.