The SV-productline is no longer available in 3G, except all SVL models with PT100 inputs. The other models have been followed by the SV4G line: SVL 4G Weblogger.
Do you still monitor your processes with a SVL 3G Weblogger?
As of January 2022, the 3G network in the Netherlands will NOT be supported by Dutch telecom providers. In the UK, Vodafone and EE have both announced that they will close their 3G network next year (2022) and BT Group has announced that 3G services will be phased off for all EE, BT Mobile and Plusnet customers by 2023.
Our 3G diallers have an automatic fallback to 2G. However, because all installations with a 3G GSM module fall back to the 2G network at the same time, the communication speed/coverage will decrease drastically. This may cause communication problems for installations with a 2G and 3G module.
In addition, the 2G network in the Netherlands will be discontinued in April 2025 as well . No official phasing off data has yet been released by UK providers such as BT, Vodafone, EE (BT), O2 and Three. According to news sources, a phase-off period from June 2023 to 2025 is mentioned. We recommend you to contact your provider for clarity in your 2G and 3G delivery guarantee.
After the networks expire, alerts with the SV line in 3G will then only be possible via the fixed internet. In order not to jeopardise the safety of your technical processes, these diallers must therefore be replaced (possibly prematurely) by Q1 of 2025 at the latest.
In order to avoid delivery problems due to a run on 4G modules during this period, we advise you to switch to solutions with a 4G LTE-Cat M1 module (4G for M2M) as soon as possible. We will be happy to advise you on choosing the right product.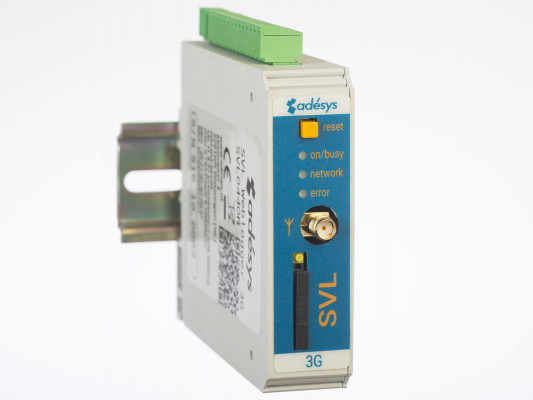 What was the SVL 3G Weblogger again
The demand for simple solutions for logging and visualising measured values in the field is steadily increasing. Monitoring a process without having to visit the site is convenient and saves time. This prompted Adésys to develop a product that makes it very simple to log and display measured values from technical processes on an internet page.